University of New Brunswick Law School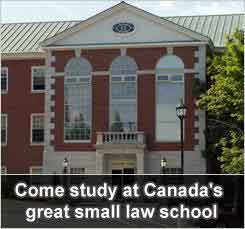 University of New Brunswick Law School: Founded in 1785, UNB offers undergraduate and graduate degrees in more than 60 disciplines and continuing education in a variety of fields.
A proud history
In 2010-11, UNB celebrated its 225th anniversary. We're proud to be one of the first public universities in North America. We continue to develop innovative programs and conduct world-class research.
We're excited about our future and we want you to be a part of it.
Canada's great small law school
"Canada's great small law school" is how students, faculty, and graduates regard the University of New Brunswick Law School. What sets UNB apart is our success in bringing together ambitious students and committed teachers in a demanding but supportive learning environment.
Founded more than a century ago in Saint John, since 1959 the Faculty has been part of UNB's Fredericton campus. Increasingly, we are recognized as one of the country's leaders. Independent evaluations by Canadian Lawyer magazine have consistently ranked us among the very best.
A great student-teacher ratio
UNB's greatest asset is its small size. We admit only 80 students each year and the total student body is about 230. With 16 full-time faculty, the student-teacher ratio is an impressive 14:1.
The school is a close-knit community, where students from all regions of Canada and around the world form friendships that last a lifetime. All classrooms, professorial and student offices, the library, the bookstore, and lounges are located in stately Ludlow Hall, a notably pleasant physical space.
Competitive tuition
At UNB Law, classes are taught primarily by full-time faculty members who are nationally and internationally known in their areas of expertise. And in an era of dramatic increases in law school tuition, ours remains very reasonable. The scholarship and bursary program provides students with outstanding financial support.
UNB Law enjoys an excellent reputation with the practicing bar across Canada. Graduates have included judges on the Supreme Court of Canada and the Federal Court of Canada as well as the premier of New Brunswick and ministers in the federal cabinet.:
Contact Info:
Telephone no: (506) 453-4666
Fax no: (506) 648-5500
Website
http://www.unb.ca/fredericton/law/
Contact a lawyer from Canada:
lawyers in Montreal
|
lawyers in Toronto
|
lawyers in Ottawa
|
lawyers in Vancouver
|
lawyers in Sydney
|
lawyers in Edmonton
Do you want your Law College listed Here than click the link below:
Submit Law College Details

Great Personalities | Famous Trials | Court Room Humour | Historical Facts
Law Maxims
Acta exteriora iudicant interiora secreta - Outward acts indicate the inward intent
Boni judicis lites dirimere est - It is the duty of a good judge to prevent litigation
Conventio et modus vincunt legem - A contract and agreement overcome the law
Damnum sine injuria - damage without legal injury.
Ex facie - On the fact of it.
Faciendum - Something which is to be done.
Injuria non excusat injuriam - A wrong does not excuse a wrong.
How To Submit Your Article:
Follow the Procedure Below To Submit Your Articles

Submit your Article by using our online form Click here
Note* we only accept Original Articles, we will not accept Articles Already Published in other websites.
For Further Details Contact: [email protected]