Queen's Faculty of Law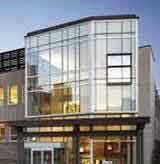 Queen's Law Crest: The words of the motto of the Faculty of Law at Queen's University, Soit droit fait Let right be done, represent both creation of new law and dedication to the traditional values of the legal order.
Embracing our proud tradition of community, collegiality and service to our society, we develop outstanding legal professionals with a global perspective and create new knowledge that advances understanding and development of the law.
Vision
To promote excellence in teaching and research, maintaining and enhancing our rank within the top tier of Canadian law schools, with a financially accessible educational program that is global in scope.
History
The first Faculty of Law at Queen's University was established in 1861; two years later it awarded the first honorary Doctor of Laws degree to Sir John A. Macdonald, who would go on to serve as Canada's first Prime Minister. The first Dean of Law, Alexander Campbell, was also a "Father of Confederation." This early faculty only lasted a few years. Efforts were made to revive the law school in 1880, but after awarding a number of LL.B. degrees the law school closed again, largely because the Law Society of Upper Canada refused to recognize university law degrees.
The modern law school was founded in 1957 with William Lederman, the pre-eminent Canadian constitutional law scholar of his era, as its first dean.
In 2007, the Faculty celebrated the fiftieth anniversary of this founding and the law school's tradition of educating leading members of the Canadian and international legal community. Notable for its commitment to community and academic excellence, Queen's Law continues to be a unique institution in the Canadian legal academic environment. An example of the Faculty's innovative programming is the Global Law Program, the only Canadian legal study abroad program, held at the Queen's University campus at Herstmonceux Castle in Sussex, England.
Queen's Faculty of Law is committed to offering its students international opportunities and a global perspective. The Faculty was the first Canadian law school to appoint an Assistant Dean of International Programs.
Announcements:
*
Apply for Upper-Year Awards
Four awards requiring letters of application are available to graduating students, and one award is available to second-year students.
*
Nominate a Graduating Student for the Dean's Key
Nominations are now being accepted for the Dean's Key, to be awarded to one or to a maximum of two graduating students. The deadline for nominations is Friday, May 4, 2012.
*
April 2012 Exam Information
Contact Info:
Telephone no: 613-533-2220
Fax no: 613-533-6509
Website
http://law.queensu.ca/index.html
Contact a lawyer from Canada:
lawyers in Montreal
|
lawyers in Toronto
|
lawyers in Ottawa
|
lawyers in Vancouver
|
lawyers in Sydney
|
lawyers in Edmonton
Do you want your Law College listed Here than click the link below:
Submit Law College Details

Great Personalities | Famous Trials | Court Room Humour | Historical Facts
Law Maxims
Acta exteriora iudicant interiora secreta - Outward acts indicate the inward intent
Boni judicis lites dirimere est - It is the duty of a good judge to prevent litigation
Conventio et modus vincunt legem - A contract and agreement overcome the law
Damnum sine injuria - damage without legal injury.
Ex facie - On the fact of it.
Faciendum - Something which is to be done.
Injuria non excusat injuriam - A wrong does not excuse a wrong.
How To Submit Your Article:
Follow the Procedure Below To Submit Your Articles

Submit your Article by using our online form Click here
Note* we only accept Original Articles, we will not accept Articles Already Published in other websites.
For Further Details Contact: [email protected]