University of Athens - Faculty of Law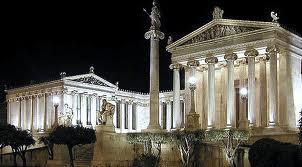 The Law School, which together with Theology, Medicine and Philosophy formed the core of the University of Athens, founded in 1837 during the reign of Otto and has since nurtured generations of worthy scientists and key actors in the political life of the country, continues within the Department School N.O.P.E. (In its present form since 1982) provide invaluable educational work to date.
At the Law School offered courses of general legal education and specialization courses at undergraduate and postgraduate level. The educational process in interdisciplinary and multidisciplinary is not limited in the University of Athens, but is realized in collaboration with many institutions of higher education of national and international programs at the base with famous higher institutions abroad. The graduates of our department excel in all fields of science and research, and professional action both in our country and the international scientific field, contribute to political life and contributed decisively to the construction of the modern Greek state.
The curriculum gives the core of university-level government department and is the mirror of the content and level of higher education provided to students from the School.
Click on the links below to contact lawyers in Australia and new Zealand:
Lawyers in Sydney
|
Lawyers in Canberra
|
Lawyers in Brisbane
|
Lawyers in Auckland
|
Lawyers in Melbourne
|
Lawyers in Adelaide
|
Lawyers in Perth
Do you want your Law College listed Here than click the link below:
Submit Law College Details

Great Personalities | Famous Trials | Court Room Humour | Historical Facts
Law Maxims
Acta exteriora iudicant interiora secreta - Outward acts indicate the inward intent
Boni judicis lites dirimere est - It is the duty of a good judge to prevent litigation
Conventio et modus vincunt legem - A contract and agreement overcome the law
Damnum sine injuria - damage without legal injury.
Ex facie - On the fact of it.
Faciendum - Something which is to be done.
Injuria non excusat injuriam - A wrong does not excuse a wrong.
How To Submit Your Article:
Follow the Procedure Below To Submit Your Articles

Submit your Article by using our online form Click here
Note* we only accept Original Articles, we will not accept Articles Already Published in other websites.
For Further Details Contact: [email protected]