Lloyd Law College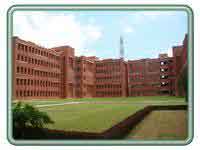 Lloyd Law College, Greater Noida is located at the Hindon embankment in the lush green pollution free environment a living Singapore of the biggest knowledge hub of India, surrounded by some of the biggest education houses and noted multinational corporations in one of the best planned, properly regulated, most spacious, environment friendly and infra - structurally developed cities in North India, approximately 40 Km from the New Delhi Railway Station in Greater Noida (U.P). The law college is spread over 4.5 acres of non-residential campus comprising three multi-storey air conditioned blocks.
The campus had it's first state of modern art four story building in 2003 and today it has main academic block comprising sixteen air conditioned lecture theaters / class rooms, as well as four story well equipped facility centre having one of the biggest in collection, spacious in seating, descriptive in discipline and congenial in reading law library of national capital region containing 3000 textual collection, journal subscription of last 56 years and regular intake of newspapers & magazines of multi discipline including the utility services of Xerox, fax, catalogue and computerized online searching system, one of the highest quality well furnished and properly equipped living permanent moot court, debate centre, roundtable and big fight centers, well maintained indoor & outdoor games along with all the facilities and common centers of capital space cafeteria and recreation centers.
In its exercise Lloyd Law College, Greater Noida is aiming to reach, retain and escalate the heights in producing socially responsible legal persons and take each of its students to the promised LADDER OF SUCCESS
Contact Info
Telephone no: +91 9871385313 / 314
Fax no: +91 120 232 0749
Website:
www.lloydlawcollege.com
Do you want your Law College listed Here than click the link below:
Submit Law College Details

Great Personalities | Famous Trials | Court Room Humour | Historical Facts
Law Maxims
Acta exteriora iudicant interiora secreta - Outward acts indicate the inward intent
Boni judicis lites dirimere est - It is the duty of a good judge to prevent litigation
Conventio et modus vincunt legem - A contract and agreement overcome the law
Damnum sine injuria - damage without legal injury.
Ex facie - On the fact of it.
Faciendum - Something which is to be done.
Injuria non excusat injuriam - A wrong does not excuse a wrong.
How To Submit Your Article:
Follow the Procedure Below To Submit Your Articles

Submit your Article by using our online form Click here
Note* we only accept Original Articles, we will not accept Articles Already Published in other websites.
For Further Details Contact: [email protected]