University of Cape Town - faculty of law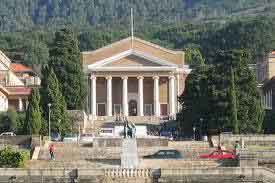 History
It was just over 150 years ago, with the Act 12 of 1858, that the teaching of law in South Africa was launched, although the first lecture was not delivered until March 18th 1859. The early years were documented most eloquently by Professor Denis Cowen in the history of the faculty, A History, 1858 - 2004 that he co-authored with Danie Visser.
Lectures in the old days were for some time given in the Master's Meeting Room in the old Supreme Court at the top of Adderley Street, but after 1896 the College Council made determined - and it would seem largely successful - efforts to insist that lectures be given in the College Buildings in Government Avenue.
The year 1916 began a new Chapter in the story of legal education in South Africa. In that year provision was made for the creation of the Universities of Stellenbosch and Cape Town. The Cape Town Act specifically provided that the old South African College should become and be incorporated as a University, thereby maintaining continuity with our early history. What was new, however, and of the greatest importance, was the decision taken by the University authorities to appoint full-time professors of law.
In 1923 a Chair of Roman Law and Jurisprudence was established out of funds raised in memory of Mr W P Schreiner; and in 1925 a third Chair of Law was established. The first occupants of these two Chairs were respectively the late Professor J Kerr Wylie (1924-1948) and the late Professor Eric Emmett (1925-1945). Meanwhile, student numbers continued to grow until in 1939, 74 were registered in the Faculty.
After World War II numbers increased rapidly; and today (2010) some 900 students, drawn mostly from South Africa, but also from 18 other countries are registered in the Faculty, with just over half registered for Masters and Postgraduate Diplomas, and with a growing number registered for PhDs.
Dean's Team
Professor PJ Schwikkard took up her position as Dean of Law on 1 January 2009. An accomplished and widely published scholar, PJ has substantial experience in both academia and the legal profession. She completed her BA degree at Wits University before embarking on an LLB, graduating summa cum laude.
She was admitted as an Attorney of the Supreme Court of South Africa in 1990 and went on to complete her LLM (cum laude) at the University of Natal. In 1999 she completed her LLD at the University of Stellenbosch.
Over the past 20 years PJ has taught courses in gender and the law, criminal law, criminal procedure, evidence, youth justice, conflict resolution, civil procedure, legal interpretation, legal skills and special contracts, and has published widely in the fields of criminal procedure and evidence.
She began teaching in 1987 as a contract lecturer at the University of Natal's School of Law, later rising to senior lecturer. When she left this university in 1998 it was to take up a professorship at Rhodes University's Faculty of Law.
In 2001 she joined UCT's Faculty of Law in the Department of Criminal Justice and was appointed head of department in 2006 before taking on the dual role of deputy dean a year later.
Professor Schwikkard is one of seven legal professionals to have been appointed to the south African Law Reform Commission.
Students
UCT attracts excellent students from diverse backgrounds and this makes for a rich learning environment; our graduates are highly sought after.
Student initiatives like the Social Justice Seminars and LAWCO are recognised as excellent and the student leadership (both the Law Student Council and the Black Law Student Forum)(need internal links to the pages for both of these organizations) has been very strong; Orientation week in 2010 was voted outstanding.
Unique to our LLB is 60 hours of community service and so our students graduate with a sense of their role in society.
Staff
We believe that teaching should be research-led and the Faculty has excellent staff, both as teachers and as researchers, and as leading authors on their subjects.
The first National Research Foundation (NRF) Chair in Humanities was given to Law: two professors are A-rated researchers and fourteen are NRF-rated researchers.
Two of our staff members have been awarded Distinguished Teachers' Awards and in 2009 the Faculty won two international teaching awards.
And of course there is the excellent law library which is linked to major electronic databases and houses 284 top class journals and more than 85 000 books.
Admission Requirements
* Undergraduate Admission Criteria 2018
Contact Info
Telephone no: +27 21 650 5662
Fax no: +27 21 650 5662
Website
http://www.law.uct.ac.za/
Lawyers in South Africa:
lawyers in Johannesburg
Do you want your Law College listed Here than click the link below:
Submit Law College Details

Great Personalities | Famous Trials | Court Room Humour | Historical Facts
Law Maxims
Acta exteriora iudicant interiora secreta - Outward acts indicate the inward intent
Boni judicis lites dirimere est - It is the duty of a good judge to prevent litigation
Conventio et modus vincunt legem - A contract and agreement overcome the law
Damnum sine injuria - damage without legal injury.
Ex facie - On the fact of it.
Faciendum - Something which is to be done.
Injuria non excusat injuriam - A wrong does not excuse a wrong.
How To Submit Your Article:
Follow the Procedure Below To Submit Your Articles

Submit your Article by using our online form Click here
Note* we only accept Original Articles, we will not accept Articles Already Published in other websites.
For Further Details Contact: [email protected]