Nottingham Law School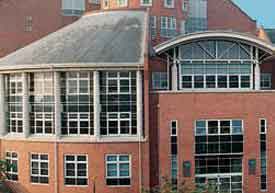 Nottingham Law School has a long history of innovative course design and teaching. Our aim is to be the leader in legal research, education and training in our chosen fields.

As a full-service law school, we provide courses for every stage of your legal training. These include:
* Qualifying Law Degrees
* the Legal Practice Course (LPC) for intending solicitors
* the Bar Professional Training Course (BPTC) for intending barristers
* the Graduate Diploma conversion course (GDL) for non-law graduates
* pro bono activities for LPC, BPTC and GDL students
* flexible academic Masters in Law (LLM)
* research supervision for MPhil and PhD in most areas of law
* continuing professional development for individuals, law firms and those organisations connected with legal practice.

Conveniently located in the heart of Nottingham, Nottingham Law School and the University benefit from extensive local, national and international transport links.
Nottingham Law School is one of the largest university law schools in the UK with a reputation for innovation and delivering the highest standards of legal training and education. Our mission is to prepare students for their future careers and we have a proven track record in graduate employability. The School's credentials speak for themselves.

Teaching excellence
# Our highly regarded Legal Practice Course has received the highest possible rating in every Law Society/SRA assessment.
# We are one of only nine educational establishments validated by the Bar Standards Board to deliver the Bar Professional Training Course.
# Our highly-rated Graduate Diploma in Law conversion course has a pass rate of over 90%.
# We offer the only MBA in Legal Practice of its kind in the world, as well as a wide range of LLMs, both academic and professional.
# We provide a range of Qualifying Law Degrees for undergraduates.
# We have the second highest number of students in the UK taking year-long legally-related work placements (HESA Student Records 2007-08).
# Our links with leading local, national and international law firms and barristers' chambers keep us at the cutting edge.
# With an outstanding reputation in research, 60% of the School's research was judged to be of international standard in the recent Research Assessment Exercise.
# We recognise that flexible study is increasingly important, offering full-time, part-time and distance learning programmes.
# Our Pro Bono project provides over 100 opportunities to gain rewarding, practical legal experience.

The place to be
# Outstanding facilities such as a £13 million library, over 7,000 computer workstations and newly refurbished buildings with state-of-the-art resources all ensure that our students have the best environment in which to learn.
# A dedicated careers and recruitment service for our professional courses provides students with guidance and assistance in their search for a training contract or pupillage.
# Exciting opportunities exist to study in Europe with our International Summer Schools programme.
# As part of Nottingham Trent University, our students have access to all the facilities a modern university has to offer. Why not enhance your career by learning a foreign language, join one of our many clubs and societies, including Lex Law Society, or keep fit in our excellent sports facilities?

Contact Info:
Telephone no: +44 (0)115 941 8418
Website http://www.ntu.ac.uk/nls/courses/Postgraduate_and_professional/index.html


Click here to contact lawyers in United Kingdom:
lawyers in Manchester
|
lawyers in Lancaster
|
lawyers in Southampton
|
lawyers in Edinburgh
|
lawyers in London
|
lawyers in Birmingham
|
lawyers in Bradford
|
lawyers in Dublin
Do you want your Law College listed Here than click the link below:
Submit Law College Details

Great Personalities | Famous Trials | Court Room Humour | Historical Facts
Law Maxims
Acta exteriora iudicant interiora secreta - Outward acts indicate the inward intent
Boni judicis lites dirimere est - It is the duty of a good judge to prevent litigation
Conventio et modus vincunt legem - A contract and agreement overcome the law
Damnum sine injuria - damage without legal injury.
Ex facie - On the fact of it.
Faciendum - Something which is to be done.
Injuria non excusat injuriam - A wrong does not excuse a wrong.
How To Submit Your Article:
Follow the Procedure Below To Submit Your Articles

Submit your Article by using our online form Click here
Note* we only accept Original Articles, we will not accept Articles Already Published in other websites.
For Further Details Contact: [email protected]