Oxford Law School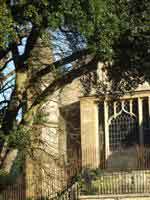 Oxford has the largest law faculty in the United Kingdom, with 90 members who hold University posts (with or without college duties), with more than 50 other Faculty members.
The British government's 2008 Research Assessment Exercise showed that substantially more top-rated research activity went on in Law at Oxford from 2001-2007, than in any other university in the UK.
The
Bodleian Law Library
is a major research library, one of the UK's two or three most important, based in the St Cross Building with the Law Faculty offices. Other law libraries include the college libraries, notably the Codrington Library at All Souls College, which is open to law students from all over the University. There are also extensive academic computing facilities and dedicated staff to provide training and support.
Contact Info:
Telephone no: +44 0 1865 271491
Fax no: +44 0 1865 271493
Website
http://www.law.ox.ac.uk
Click here to contact lawyers in United Kingdom:
lawyers in Manchester
|
lawyers in Lancaster
|
lawyers in Southampton
|
lawyers in Edinburgh
|
lawyers in London
|
lawyers in Birmingham
|
lawyers in Bradford
|
lawyers in Dublin
Do you want your Law College listed Here than click the link below:
Submit Law College Details

Great Personalities | Famous Trials | Court Room Humour | Historical Facts
Law Maxims
Acta exteriora iudicant interiora secreta - Outward acts indicate the inward intent
Boni judicis lites dirimere est - It is the duty of a good judge to prevent litigation
Conventio et modus vincunt legem - A contract and agreement overcome the law
Damnum sine injuria - damage without legal injury.
Ex facie - On the fact of it.
Faciendum - Something which is to be done.
Injuria non excusat injuriam - A wrong does not excuse a wrong.
How To Submit Your Article:
Follow the Procedure Below To Submit Your Articles

Submit your Article by using our online form Click here
Note* we only accept Original Articles, we will not accept Articles Already Published in other websites.
For Further Details Contact: [email protected]