West Bengal National University of Juridical Sciences - WBNUJS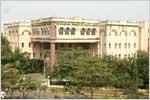 Year Established 1999
The West Bengal National University of Juridical Sciences was established under the WBNUJS Act, 1999 (West Bengal Act IX of 1999) adopted by the West Bengal Legislature in July, 1999.The University was notified under Clause (f) of Section 2 of the UGC Act, 1956 in August 2004 and has been granted permanent affiliation by the Bar Council of India in July 2005.
The Chief Justice of India is the Chancellor of NUJS and is also the Chairman of the General Council, the supreme policy-making body of the University. Professor Mahendra Pal Singh is the Vice Chancellor of the University
The objectives of the University inter alia are to:
# Advance and disseminate learning and knowledge of law and legal processes and their role in national development
# Promote legal knowledge and to make law and the legal process efficient instruments of social development
# Develop in the student and research scholar a sense of responsibility to serve society in the field of law by developing skills with regard to advocacy, legal service, legislation, law reforms and the like
# Promote inter-disciplinary study of law in relation to management, technology, international cooperation and development Statistics.
LL.M programme
The LL.M degree course is a one-year post graduate course, offering specializations in two streams - (i) International and Comparative law (ii) Corporate and Commercial law . This programme is interested in attracting students who either wish to join academia or seek to acquire advanced research skills before joining the legal profession. The admission is based exclusively on the performance in the Common Law Admission Test (CLAT). To qualify for admission, the candidate should have secured LL.B degree or its equivalent from a recognized university, having obtained not less than 55% marks in the aggregate.
Master of Business Laws
An online Masters in Business Laws degree (2 years) is now being offered by the University.[11] There are multiple specialisations also available.
Research Programmes
NUJS offers three research programmes: M. Phil, PhD and LL.D.
The M. Phil degree programme is designed for legal academics, i.e., students who wish to pursue sustained independent study and research and are planning careers in law teaching.
The Postgraduate Council (PGC) constitutes an Advisory Committee of three members for each M.Phil student. Each student will be under the supervision of a faculty advisor. The candidate will be eligible for receipt of the degree only if he/she completes the prescribed requirements of the course within a maximum period of three years.
The PhD and LL.D degrees are two of the most advanced law degrees. The candidates to these degrees are expected to produce a thesis that will constitute a substantial and valuable contribution to legal scholarship. Since the doctoral programme is designed to train law teachers, having the opportunity to practice teaching skills is critical. The candidate is therefore given teaching assignments in addition to making presentations before the faculty community.
Diploma and post-graduate diploma
NUJS, Offers a diploma in Entrepreneurship Administration and Business Laws, which has students from 10 different countries. This is university's most successful distance education program,and is available through an android app apart from online Learning Management System. Students in the course include bureaucrats, CEOs, journalists, law firm partners and investment managers.
On 29 April 2013, Vice-chancellor Prof. (Dr.) P. Ishwara Bhat issued a letter of intent for educational institutions, to enter into a MoU with NUJS for its Diploma in Entrepreneurship Administration and Business Laws course. This benefits the partner institution to a greater extent in terms of quality upliftment. It is seen, that by acquiring such practical skill sets at an early stage, students catapult their careers to a farther height.
In November 2014, the University has announced an online Executive Certification Program to train HR professionals, in-house legal counsels, NGO workers, women's rights activists and compliance professionals on sexual harassment prevention and workplace diversity management. The program is titled "Executive Certification on Sexual Harassment Prevention and Workplace Diversity Management".
Certificate Courses
NUJS is offering a cyber law certificate course since 2015 in online mode.
Contact Info:
Telephone (+91)33-2335 0534
Fax (+91)33-2335 7422
Website
http://www.nujs.edu/
Career Openings:
Advertisement for Research Position for Research Project sponsored by the Department of Justice -
Last Date of Application: 10th January 2016
»
Download Application Details
Notice for applicants of Research Fellow / Research Assistants / Research Associates- Interview and Written Test Dates and Timings -
»
Download Interview Details
»
Download Written Test Details
Do you want your Law College listed Here than click the link below:
Submit Law College Details

Great Personalities | Famous Trials | Court Room Humour | Historical Facts
Law Maxims
Acta exteriora iudicant interiora secreta - Outward acts indicate the inward intent
Boni judicis lites dirimere est - It is the duty of a good judge to prevent litigation
Conventio et modus vincunt legem - A contract and agreement overcome the law
Damnum sine injuria - damage without legal injury.
Ex facie - On the fact of it.
Faciendum - Something which is to be done.
Injuria non excusat injuriam - A wrong does not excuse a wrong.
How To Submit Your Article:
Follow the Procedure Below To Submit Your Articles

Submit your Article by using our online form Click here
Note* we only accept Original Articles, we will not accept Articles Already Published in other websites.
For Further Details Contact: [email protected]