Jharkhand High Court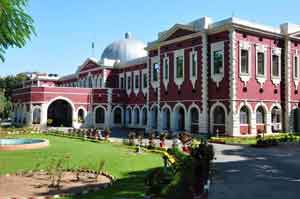 Jharkhand High Court was established in 2000 under the Bihar Reorganization Act, 2000, after the state of Jharkhand was carved out of the state of Bihar. The court has jurisdiction over Jharkhand state.
The seat of the court is at Ranchi, the administrative capital of the state. The court has a sanctioned judge strength of 20.
A circuit bench of the Patna High Court was established at Ranchi on 6 March 1972 under clause 36 of the Letter Patent of the Patna High Court. The Circuit bench became the Permanent Bench of the Patna High Court, by the High Court at Patna (Establishment of Permanent Bench at Ranchi) Act 1976 (Act 57 of 1976) on 8 April 1976. This Permanent Bench finally became the Jharkhand High Court on reorganization of Bihar state on 15 November 2000.
Important links:
#
Cause list
- High Court of Patna
#
Judges profile
#
Ranchi
High Court lawyers profile
#
Notification
# Ranchi High Court lawyers Directory
# Jharkhand High Court Rules: 1. High Court of Jharkhand Rules,2001
2. Amendment in High Court of Jharkhand Rules
3. Notification in High Court of Jharkhand Rules
4. Jharkhand High Court (Public Interest Litigation) Rules, 2010
5. Civil Court Rules
6. Criminal Court Rules
# Recruitments

Landmark Judgments | Famous Trials | Historical Facts | Legal Profession

Law Maxims # Acta exteriora iudicant interiora secreta - Outward acts indicate the inward intent
# Boni judicis lites dirimere est - It is the duty of a good judge to prevent litigation
# Conventio et modus vincunt legem - A contract and agreement overcome the law
Damnum sine injuria - damage without legal injury.
Ex facie - On the fact of it.
Faciendum - Something which is to be done.
Injuria non excusat injuriam - A wrong does not excuse a wrong.
How To Submit Your Article:
Follow the Procedure Below To Submit Your Articles

Submit your Article by using our online form Click here
Note* we only accept Original Articles, we will not accept Articles Already Published in other websites.
For Further Details Contact: [email protected]india.com

Right Away Call us at Ph no: 9650499965
File Your Copyright - Right Now!