High Court of Meghalaya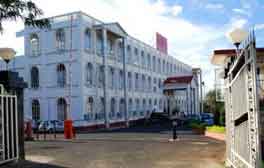 High Court of Meghalaya: The amendment of the North East Re Organisation Act, 1971 paved the way for setting up of the High Court of Meghalaya.
Chief Justice of Inida (CJI) Altamas Kabir inaugurated the Meghalaya High Court.
In his inaugural address, Justice Kabir said that setting up of the high court here would go a long way in fulfilling the aspirations of the people and the same was an overdue pledge of the Constitution which advocated a high court for each state.
"I have no doubt that the Meghalaya High Court will become a shining example of the independence of judiciary as well as the quality of justice to be rendered in the years to come," he said.
Kabir recalled that several visits to the region made him realise that 'people here wanted to know what the legal system in the mainland was and why things cannot be integrated in such a way that everybody becomes a part of this country.'
It may be mentioned that Justice T. Meena Kumari was sworn in as the first Chief Justice of the Meghalaya High Court.
Earlier, Union minister for Law and Justice Ashwani Kumar said that the high court here will bring justice to the doorsteps of the people and will ensure a credible and expeditious justice according to the traditions, local customs and realities of the area.
Landmark Judgments | Famous Trials | Historical Facts | Legal Profession

Law Maxims # Acta exteriora iudicant interiora secreta - Outward acts indicate the inward intent
# Boni judicis lites dirimere est - It is the duty of a good judge to prevent litigation
# Conventio et modus vincunt legem - A contract and agreement overcome the law
Damnum sine injuria - damage without legal injury.
Ex facie - On the fact of it.
Faciendum - Something which is to be done.
Injuria non excusat injuriam - A wrong does not excuse a wrong.
How To Submit Your Article:
Follow the Procedure Below To Submit Your Articles

Submit your Article by using our online form Click here
Note* we only accept Original Articles, we will not accept Articles Already Published in other websites.
For Further Details Contact: [email protected]

Right Away Call us at Ph no: 9650499965
File Your Copyright - Right Now!