Patna High Court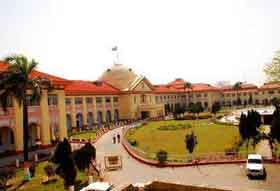 Patna High Court was established on 3 February 1916 and later affiliated under the Government of India Act, 1915. The court is headquartered in Patna, the administrative capital of the state.
Proclamation made by the Governor-General of India on the 22nd March, 1912 the territories of Bihar and Orissa which were formerly subject to and included within the limits of the Presidency of Fort William in Bengal, were promoted to the status of a separate province, and by Letters Patent, dated the 9th February, 1916 the Patna High Court was ushered into existence with Circuit sittings at Cuttack, and form the 26th February, 1916, the date on which the aforesaid Letters Patent was published in the Gazette of India, the High Court of Judicature at Fort William in Bengal ceased to exercise jurisdiction, Civil, Criminal, Admiralty, Matrimonial, Testamentary and Intestate, Enrolment, etc. in all matters in which jurisdiction was given to the High Court of Judicature at Patna. Thus the ancient city of Pataliputra had a High Court of its own in 1916 with Sir Edward Maynard Des Champs Chamier, Kt. Barrister-at-Law as its first Chief Justice and Sarvashri Saiyid Sharfuddin, Barrister-at-Law, Edmund Pelly Chapman, I.C.S., Basant Kumar Mullick, I.C.S., Francis, Reginald Roe, I.C.S, Cecil Atkinson, barrister-at-Law and Jwala Prasad, B.A., LL.B., as Puisne Judges.
The foundation-stone of the High Court Building was laid on Monday, the 1st December, 1913 by His Excellency the late Viceroy and Governor-General of India, Lord Hardinge of Penshurst, who in the memorable speech on the occasion said:
"The history which has led to the laying of this foundation-stone is within the knowledge of you all, and I think you will agree that when once it has been determined that Bihar and Orissa should be promoted to the status of a separate province, it would be an administrative anomaly that its people should still have to carry on their litigation at a place beyond its limits where the obvious inconvenience of distance, cost and time are enhanced by the disabilities of a different atmosphere and different vernacular……. I now proceed to lay this stone in full confidence that upon people of this province. I feel assured that within its walls in future days justice will be administered with courage and impartiality to the terror of evil-doers, and to the triumph of every cause which is right and true, so that the High Court of Bihar shall earn a name for sound sense and good law."
Important links:
#
Cause list
- High Court of Patna
1.
Bihar Civil Procedure (Mediation) Rules, 2008
2.
Civil Procedure (Alternative Dispute Resolution) (Bihar) Rules 2008
3.
Bihar (Case flow Management in High Court) Rules 2008
4.
Bihar (Case flow Management in Subordinate Courts) Rules 2008
5.
Registration of Advocates as Advocates-on-Record of the Patna High Court Rules
#
Judges profile
#
Notification
# Patna High Court lawyers Directory
# Mediation Trained Officers

Landmark Judgments | Famous Trials | Historical Facts | Legal Profession

Law Maxims # Acta exteriora iudicant interiora secreta - Outward acts indicate the inward intent
# Boni judicis lites dirimere est - It is the duty of a good judge to prevent litigation
# Conventio et modus vincunt legem - A contract and agreement overcome the law
Damnum sine injuria - damage without legal injury.
Ex facie - On the fact of it.
Faciendum - Something which is to be done.
Injuria non excusat injuriam - A wrong does not excuse a wrong.
How To Submit Your Article:
Follow the Procedure Below To Submit Your Articles
Submit your Article by using our online form Click here
Note* we only accept Original Articles, we will not accept Articles Already Published in other websites.
For Further Details Contact: [email protected]

Right Away Call us at Ph no: 9650499965
File Your Copyright - Right Now!