Chhattisgarh High Court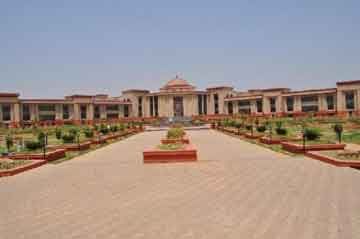 The Chhattisgarh High Court was established on 1 November 2000 after the Madhya Pradesh Reorganisation Act, 2000 was passed. It has jurisdiction over the state of Chhattisgarh. The High Court of Bilaspur is the 19th High Court of India.
Justice R. S. Garg was the first Acting CJ of the Chhattisgarh High Court. It is located in Bilaspur. The court has a sanctioned judge strength of eighteen.
Inaugural speech of Hon'ble Chief Justice
At the outset I want to express that such function or custom of giving ovation is not there in Northeast India. It gives me immense pleasure to see so much good will from the people of Chhattisgarh and the manner in which you have arranged this ovation. I do not have adequate words to express my heartiest gratitude's and thankfulness to all of you who have organised this ovation. May be, my learned brother may also have been instrumental for this. I must also mention at this moment that Justice Garg has been here for some time and, as you all have mentioned, he has done a lot of work and, therefore, I owe to him. My wife, my son, my elder brother are with me and they have enjoyed every moment of their stay in the State of Chhattisgarh. I have no reason to doubt when brother (Justice R.S.Garg) has said people here are good. I am a simple man and I shall be happy to work amongst simple people.
It has been said many times, and I thought I should repeat because it is necessary to do so, that Bar and Bench are two sides of one coin and that speaks volumes that without co-operation of one from other the High Court will not move forward and I want all of you to contribute whatever you can. I have concern about the image of this institution. I am simple man, as I have said. Whatever I have learnt in the University of Delhi as far as provisions of law are concerned I have forgotten. I would, therefore, appeal particularly to the members of the Bar to help the Court as far as the provisions of the laws are concerned. We would, therefore, expect that you might rise to the occasion whenever you are called upon to assist the Court. This, in my opinion, would be in the best interest of the administration of justice and in the spirit of Chhattisgarh. Do what you say. If we do some thing else than we say, then people will not trust us and if people lose trust then in my humble opinion nothing remains in judiciary as, after all, judiciary is constructed entirely upon the solid foundation of confidence of the people. I would not care if people say that I am not a learned man, but I would feel if anybody accused me of partiality. I want to say to the lawyers that we are here to do justice to whom it is due and that justice has to be done to those persons who have brought the case. Therefore, we should be fair to each other. Though we should be frank and there should be no barrier between man and man, excessive friendliness between a Judge and a particular man is dangerous so far as judiciary is concerned. In the interest of justice let us avoid intimacy and let us never try to have so much access so far as judiciary is concerned. I seek your co-operation for this High Court. Some other brother Judges may join us in the near future and we seek your co-operation without which we cannot function smoothly. When judges and lawyers are outside the court, let us meet as people and citizens of this country.
I would, therefore, in the end request you to accept me as one of you.
Important links:
#
Filing Instructions
- High Court of Chhattisgarh
#
Legal Aid center
# Rules

Landmark Judgments | Famous Trials | Historical Facts | Legal Profession

Law Maxims # Acta exteriora iudicant interiora secreta - Outward acts indicate the inward intent
# Boni judicis lites dirimere est - It is the duty of a good judge to prevent litigation
# Conventio et modus vincunt legem - A contract and agreement overcome the law
Damnum sine injuria - damage without legal injury.
Ex facie - On the fact of it.
Faciendum - Something which is to be done.
Injuria non excusat injuriam - A wrong does not excuse a wrong.
How To Submit Your Article:
Follow the Procedure Below To Submit Your Articles

Submit your Article by using our online form Click here
Note* we only accept Original Articles, we will not accept Articles Already Published in other websites.
For Further Details Contact: [email protected]

Right Away Call us at Ph no: 9650499965
File Your Copyright - Right Now!