Western Law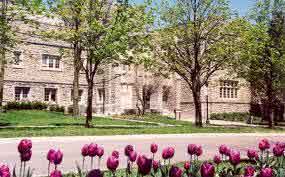 Western Law: The Faculty of Law at Western was founded in 1959. Our founding Dean was the Honorable Ivan Cleveland Rand, one of the towering figures in Canadian legal history and, though we are now in our fifth decade, we consciously remain faithful to the Rand ideals of scholarship, collegiality, integrity and mutual respect. The Faculty of Law is strongly committed to excellence and diversity. While the Faculty believes that excellence in academic studies is the best evidence of ability to succeed in the study of law, it also believes that achievements in other areas may indicate potential for success in legal studies. Accordingly, our application policies allow applicants to show their potential in various ways, and are designed to produce a mix of students with diverse experience.
Faculty and Staff
Academic excellence is at the heart of Western Law and it starts with our professors.
Western Law is proud of the fact that it is among those Canadian law schools having the largest proportion of faculty with earned doctorates.
Western's full-time faculty members are exceptional classroom teachers, have won prestigious teaching awards, provide expert opinions to the media, and have received national and international recognition for their research. Western Law's publication rate is among the highest in the country. Our professors are regular contributors to leading law journals and are authors of legal texts and casebooks used in courts, law firms and law schools across Canada. Faculty members also serve as public and private sector consultants and advisors and are sought-after speakers at national and international conferences.
Western Law's professors push students to think critically, teach them to argue cogently and instill in them a solid understanding of the law. Our professors value collegiality and provide students with significant opportunities to interact with them as academic and professional mentors.
Complementing this remarkable group of full-time professors is a distinguished group of lawyers (many of whom are our alumni) who, as part-time faculty members, teach courses within their specialties, adding their perspectives as practitioners to the classroom.
Western Law's professional administrative staff helps provide students with the best possible law school experience. The administrative staff offer services and support in a variety of areas including career and professional development, academic counselling, promotion and publicity of events and achievements, financial aid information and exchange opportunites.
Alumni
UWO Law Alumni Association (UWOLAA)
Our alumni frequently return to Western to serve as guest speakers, serve as mentors to our student body, attend faculty events, assist in fundraising endeavours, teach a lecture series or a course or simply to rekindle old friendships they established with the faculty.
In fact, Western's Faculty of Law would not be in its present position as one of the finest law Faculties in the province without the support of its alumni. Our grads continually demonstrate excellence through their community-minded leadership; their success in their professional careers; their commitment to communicate Western's successes and in their loyalty to their alma mater through donated gifts of time or finances. Our alumni are one of our most valued constituencies and are essential to Western's continued success and because of this, it is essential that we maintain open lines of communication.
Western Law is pleased to announce that the next issue of our alumni magazine, Vox Communitatas, will be mailed out shortly. This is an annual publication, and we hope that you will become involved by keeping us informed of what you are doing now. We are always interested in what our alumni are doing. Please let us know if you have changed jobs, gotten married, published articles or anything else of interest. We also would like to keep our alumni contact information up to date. Please contact Susanna Eayrs or call 519-661-2126.
Contact Info:
Telephone no: 519-661-3347
Fax no: 519-661-2063
Website
http://www.law.uwo.ca/
Contact a lawyer from Canada:
lawyers in Montreal
|
lawyers in Toronto
|
lawyers in Ottawa
|
lawyers in Vancouver
|
lawyers in Sydney
|
lawyers in Edmonton
Do you want your Law College listed Here than click the link below:
Submit Law College Details

Great Personalities | Famous Trials | Court Room Humour | Historical Facts
Law Maxims
Acta exteriora iudicant interiora secreta - Outward acts indicate the inward intent
Boni judicis lites dirimere est - It is the duty of a good judge to prevent litigation
Conventio et modus vincunt legem - A contract and agreement overcome the law
Damnum sine injuria - damage without legal injury.
Ex facie - On the fact of it.
Faciendum - Something which is to be done.
Injuria non excusat injuriam - A wrong does not excuse a wrong.
How To Submit Your Article:
Follow the Procedure Below To Submit Your Articles

Submit your Article by using our online form Click here
Note* we only accept Original Articles, we will not accept Articles Already Published in other websites.
For Further Details Contact: [email protected]