East China University of Political Science and Law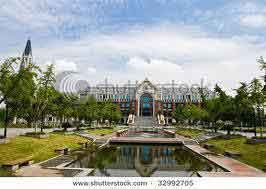 East China University of Political Science and Law, which has a long history, is the most large-scaled education institution within the university and it also remains the largest law institution in China.
Adhering to the party's policies on education, the law school, the major institution of legal education (It offers two LLD programs and six LLM programs), commits itself to nurturing all-round-way and practical legal professionals equipped with both solid basic theories in law and in–depth professional knowledge, who can be devoted to the construction of law, legislation, judicature, legal service and the education and research of law.
The Law School boasts a good number of most prestigious professors and scholars. It has more than 120 faculty members, of whom there are 64 professors or associate professors, 8 supervisors of doctoral programs and 54 PhDs and PhD candidates. Among them, there is Prof. He Qinhua, president of the Institute of Foreign Law History and member of the standing committee of the Institute of Chinese Law; Prof. Wang Limin, chief executive officer of the Institute of Chinese Law History; Prof Liu Xianquan, vice president of the Institute of Chinese Criminal Law. Many teaching staffs are involved in the implementation of national bar examinations. Prof. Wang Limin is a member of the directorate of the national bar examinations and Prof Liu Xianquan is a member on the national bar examination committee.
Its education sections cover a diverse range of areas in law: criminal jurisprudence law, civil jurisprudence, constitutional jurisprudence, administrative jurisprudence, legal historiography, basic legal theories, criminal procedural law, civil procedural law, legislation, legal writing and 11 research institutions, such as intellectual property law, real estate law, e-business law,
administrative law, legal culture, legislation, legal businesses, laws in Hong Kong, Macao and Taiwan.
The discipline of legal historiography is the key discipline of the Ministry of Justice and Shanghai Municipality, and the discipline of criminal law is the key discipline of Shanghai Education Committee and receives key financial aid from UNESCO and World Bank. Foreign Law History is awarded as "Elite courses in Shanghai" and "Elite courses in China".
How to Apply
I. Deadline for Applications
Fall Semester: June 30
Spring Semester: March 1( Only to Non-Degree Programs)
II. How to Submit Applications
Applicants may obtain application forms from the university website or request them in person. The application forms shall be submitted with other required documents. After review of their applications, applicants are to be informed of the results in one month.
III. The Organization In Charge of Admission
International Culture Exchange School
East China University of Political Science and Law
Address: 1575 Wan Hang Du Road , Shanghai , 200042
Tel: (86-21)62071643; 62071711; 62071789
Fax: (86-21)62137121
Contact Info:
Telephone no: (86-21)62071643; 620
Fax no: (86-21)62137121
Website
http://www.ecupl.edu.cn/en/index.asp
Do you want your Law College listed Here than click the link below:
Submit Law College Details

Great Personalities | Famous Trials | Court Room Humour | Historical Facts
Law Maxims
Acta exteriora iudicant interiora secreta - Outward acts indicate the inward intent
Boni judicis lites dirimere est - It is the duty of a good judge to prevent litigation
Conventio et modus vincunt legem - A contract and agreement overcome the law
Damnum sine injuria - damage without legal injury.
Ex facie - On the fact of it.
Faciendum - Something which is to be done.
Injuria non excusat injuriam - A wrong does not excuse a wrong.
How To Submit Your Article:
Follow the Procedure Below To Submit Your Articles

Submit your Article by using our online form Click here
Note* we only accept Original Articles, we will not accept Articles Already Published in other websites.
For Further Details Contact: [email protected]